History of Dog Agility
Agility history can be traced, beginning with a demonstration at the end of the 1970s in the United Kingdom. Since that period, this contest for dogs has spread rapidly around the Globe, with major competitions held everywhere.
Agility has been documented for the first time, as entertainment at the
Crufts
dog's show in 1978, when in 1977 a member of the show Committee John Varley has been tasked to come up with entertainment for the audience, combining elements of obedience and conformation in the same ring. Varley, using the trainer Peter Meanwell for assistance, developed the course mainly in jumping style, something taken from the equestrian world to demonstrate the dogs' natural speed and maneuverability.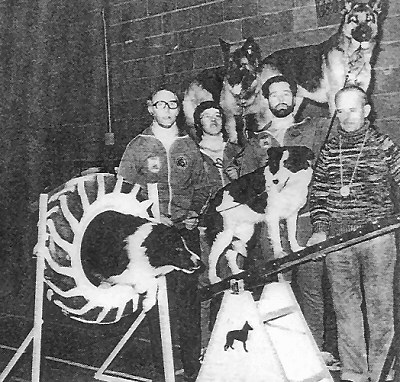 Lincolm DTC, winners of the first agility display at Crufts 1978
Photo:
Peter Lewis' book
In the newspaper
«Our dogs»
in 1974 was reported that Meanwell had either witnessed or taken part in such competition on agricultural fair before.
At the
Crufts
show in the 1978 the dog owners were instantly intrigued by speed, complexity and skills, demonstrated by the dogs. The audience wanted to see more and wanted their own dogs to have the opportunity to participate in it. The demonstration has become so popular that it began to grow into local, later national, and finally, into international competitions with standard equipment. In 1979, some British training dog clubs started offering the new sport training - dog agility, and in December of the same year the first contest «Betting on agility» was held at the International equestrian show at Olympia in London.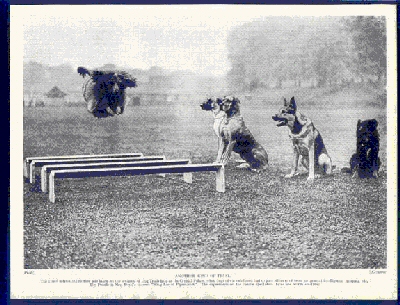 Photo:
agilitynet.co.uk
In 1980 the
Kennel Club
was the first organization, which recognized agility as an official sport with the authorized set of rules. The first test of agility, passed under the new rules, was the team standings at Crufts in the same year.
During the early 80's the competition starts conquering the world with the advent of the
United States Dog Agility Association
(USDAA),
Agility Association of Canada
(AAC), and later
Agility Dog Association of Australia
(ADAA) - organizations, specializing in this sport.
In the early years, smaller dogs were basically not suited for competitions, due to the need to compete over the same jump of 30 inches (76,2 cm) height with large dogs. The trend began to change in the early eighties, with the introduction of classes for small dogs (up to 15 inches (38,1 cm) at the shoulder, jumping over the same 15 inches).
In 1992, the first week-long agility show for dogs' charity assistance «Dogs in Need» was held in Malvern in England, where a total of 885 dogs were attended and 5879 class members as well.
While the English
Kennel Club
is the main trend and rules setter in the dog sport to the present day, the number of clubs and associations around the world, which support the dog agility has been growing year by year.
Share: