Dogs Attack Statistics by Breed
An estimated 850,000 people require medical attention each year due to dog bites. The following seven breeds are believed to be the most aggressive and biting breeds:
Pit bulls,
Rottweilers,
German Shepherds,
American Bulldogs,
Mastiffs,
Siberian Huskies, and
Presa Canarios.
Each breed has a different number of attacks and fatalities, depending on the source. Numerous dog assaults go unreported. However, the majority of statistics concur that these are the most dangerous breeds.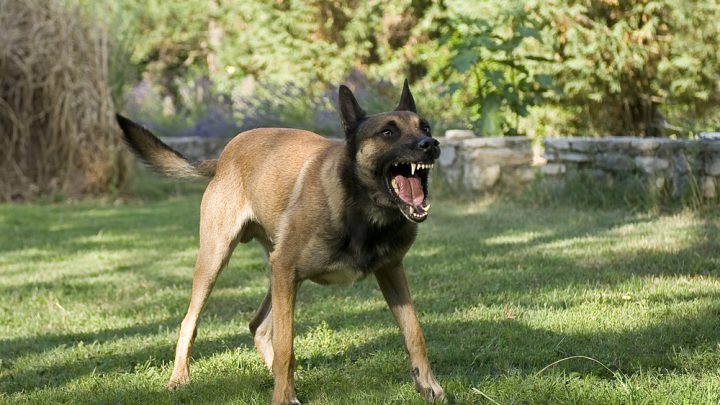 Dog attack deaths and maimings, U.S. & Canada 1982 Sep – 31 Dec 2021
| | | | | | |
| --- | --- | --- | --- | --- | --- |
| | Attacks | Children | Adults | Death | Maimings |
| American Pit Bull Terrier | 7772 | 2783 | 3616 | 561 | 5331 |
| Rottweiler | 666 | 349 | 210 | 110 | 402 |
| German Shepherd | 229 | 103 | 104 | 24 | 166 |
| Dogo Canario | 176 | 50 | 80 | 20 | 115 |
| Siberian Husky | 135 | 63 | 22 | 31 | 47 |
| Akita | 89 | 54 | 33 | 9 | 69 |
| Boxer | 64 | 19 | 23 | 7 | 31 |
| Chow Chow | 61 | 37 | 18 | 8 | 40 |
| Labrador (USA) | 56 | 37 | 17 | 3 | 45 |
| Great Dane | 37 | 12 | 9 | 3 | 19 |
| Mastiff (English) | 28 | 23 | 5 | 5 | 17 |
| Doberman | 23 | 12 | 9 | 8 | 12 |
| Cane Corso | 21 | 4 | 11 | 2 | 12 |
| Bulldog (English) | 20 | 12 | 4 | 1 | 14 |
| Blue Heeler | 20 | 2 | 3 | 0 | 5 |
| Alaskan Malamute | 15 | 12 | 2 | 6 | 5 |
| Australian Heeler | 13 | 4 | 2 | 1 | 5 |
| St. Bernard | 12 | 8 | 1 | 1 | 7 |
| Golden Retriever | 11 | 9 | 2 | 3 | 7 |
| Australian shepherd | 11 | 7 | 2 | 0 | 5 |
| Plott Hound | 10 | 0 | 1 | 0 | 1 |
| Belgian shepherd – Malinois | 7 | 4 | 3 | 0 | 4 |
| Sharpei | 6 | 6 | 0 | 0 | 6 |
| Dachschund | 6 | 3 | 3 | 1 | 6 |
| Shih Tzu | 5 | 2 | 3 | 0 | 5 |
| Jack Russell Terrier | 5 | 3 | 1 | 2 | 2 |
| Fila Brasiero | 5 | 1 | 1 | 1 | 1 |
| Dogo Argentino | 5 | 2 | 3 | 1 | 3 |
| Pyrenean Mastiff | 4 | 1 | 2 | 1 | 2 |
| Poodle | 4 | 2 | 1 | 0 | 1 |
| Collie | 4 | 4 | 0 | 1 | 3 |
| Catahoula Bulldog | 4 | 1 | 1 | 1 | 1 |
| Brittany Spaniel | 4 | 1 | 0 | 0 | 1 |
| Black Mouth Cur | 4 | 3 | 1 | 0 | 4 |
| Beagle | 4 | 3 | 1 | 1 | 3 |
| Springer Spaniel | 3 | 4 | 0 | 0 | 4 |
| Shiba Inu | 3 | 1 | 1 | 1 | 1 |
| Irish Soft Coated Wheaten Terrier | 3 | 1 | 1 | 0 | 2 |
| Dalmatian | 3 | 3 | 0 | 0 | 3 |
| Coonhound | 3 | 1 | 2 | 1 | 1 |
| Chesapeake Bay Retriever | 3 | 3 | 0 | 0 | 2 |
| Bull Terrier (English) | 3 | 1 | 1 | 0 | 1 |
| West Highland White Terrier | 2 | 0 | 2 | 1 | 1 |
| Weimaraner | 2 | 2 | 0 | 1 | 1 |
| Rhodesian Ridgeback | 2 | 2 | 0 | 0 | 2 |
| Rat Terrier | 2 | 0 | 1 | 0 | 1 |
| Old English Sheepdog (Bobtail) | 2 | 1 | 1 | 2 | 0 |
| Doge de Bordeaux | 2 | 1 | 0 | 0 | 1 |
| Cocker Spaniel | 2 | 2 | 0 | 0 | 2 |
| Briard | 2 | 0 | 1 | 1 | 0 |
| Boston Terrier | 2 | 0 | 1 | 1 | 0 |
| Border Collie | 2 | 1 | 1 | 1 | 2 |
| Basset Hound | 2 | 0 | 2 | 0 | 2 |
| Airedale Terrier | 2 | 2 | 0 | 0 | 2 |
| Tosa | 1 | 1 | 0 | 0 | 1 |
| Setter | 1 | 0 | 1 | 0 | 1 |
| Schnauzer | 1 | 0 | 1 | 1 | 0 |
| Russian Black Terrier | 1 | 0 | 1 | 0 | 1 |
| Pug (Mops) | 1 | 1 | 0 | 0 | 1 |
| Pomeranian (Zwergspitz) | 1 | 1 | 0 | 1 | 0 |
| Norwegian Elkhound | 1 | 0 | 1 | 0 | 1 |
| Miniature pinscher (Zwergpinscher) | 1 | 1 | 0 | 0 | 1 |
| Maremma and the Abruzzes Sheepdog | 1 | 0 | 1 | 0 | 1 |
| Keeshond | 1 | 0 | 1 | 1 | 0 |
| Karelian Bear Dog | 1 | 0 | 1 | 0 | 1 |
| Greyhound | 1 | 1 | 0 | 0 | 1 |
| East Highland Terrier | 1 | 0 | 1 | 1 | 0 |
| Coton de Tulear | 1 | 0 | 1 | 0 | 1 |
| Chihuahua | 1 | 1 | 0 | 1 | 1 |
| Cavalier King Charles Spaniel | 1 | 0 | 1 | 0 | 1 |
| Caucasian Shepherd | 1 | 0 | 1 | 0 | 1 |
| Bernese Mountain Dog | 1 | 0 | 1 | 0 | 1 |
| Anatolian Shepherd | 1 | 1 | 0 | 0 | 1 |
| | | | | | |
| Unidentified | 81 | 16 | 29 | 8 | 32 |
| Wolf Hybrid | 85 | 70 | 5 | 19 | 49 |
Source: www.dogsbite.org
Dog attack statistics in Germany
In Germany
Dog Attacs in Berlin
1998
2000
2001
German Shepherd
1956
327
302
Rottweiler
542
152
96
Pit Bulls
320
78
42
American Staffordshire terrier
65
32
Staffordshire Bull Terrier
169
0
5
Bull Rerrier
9
5
Doberman
223
Read also in our articles: